Introduction
Most companies have discovered content marketing and are publishing large amounts of content via e-books, online courses, articles, videos, FAQs, etc. Now there is a need to offer customers a more comprehensive strategy and a more consolidated solution. Online customer education academies are a place where customers can go to gain new knowledge and skills. They are web portals wherecustomers can find a comprehensive range of educational content and learning activities.
What is Customer Education? 
At Playou we have been focusing on this discipline for eight years. In our company, we say that it means trying to make our customers understand us. To understand what we offer, why they should work with us, to get to know us better, to know what our values are, and of course, to be able to use our products to their full potential. The goal of educating customers is to increase loyalty, reduce churn rates, increase customer lifetime value, get fewer complaints, better conversions in marketing campaigns, etc. I personally see customer education as a mindset, a mindset that impacts marketing, sales and customer success. Customer education can be the right corporate strategy and a path to greater stability for a company.
What are Customer Education Academies?
What are customer academies? When we talk about customer education, we are primarily referring to customer education in an online environment. By that I mean online, scalable education that can be delivered to an unlimited number of customers.
Until recently, online customer education was mainly about online retailers and SaaS (software as a service) companies, i.e. companies that provide their services via the internet. However, digital transformation has advanced, also thanks to Covid-19, working with customers has changed across almost every industry. Most companies have discovered content marketing and are publishing large amounts of content via e-books, online courses, articles, videos, FAQs, etc.
Now there is a need to offer customers a more comprehensive strategy and a more consolidated solution. Online customer education academies are a place where customers can go to gain new knowledge and skills. They are web portals wherecustomers can find a comprehensive range of educational content and learning activities.
Define Your Goal
You're probably taking this course because you already know that you want to educate your customers. I have a little assignment for you. I'm sure that it will be easy for you. Think about what you would like to achieve by educating your customers. I'll give you some examples. Imagine you're facing the problem that many of your customers don't know how to use your products and as a result, they leave you for your competitors. There's a clear solution here, your customers will stay with you if you teach them how to use your products to their full potential. Here's another example: potential customers don't understand the true value of your products or services and therefore are not willing to pay an adequate price for them. The goal is clear: Try to explain to your customers how your products can help them and why they will provide them with a high return on investment. There are dozens of such examples. Now it's your turn to define your own goal.
Strategy
Customer Academy Strategy Canvas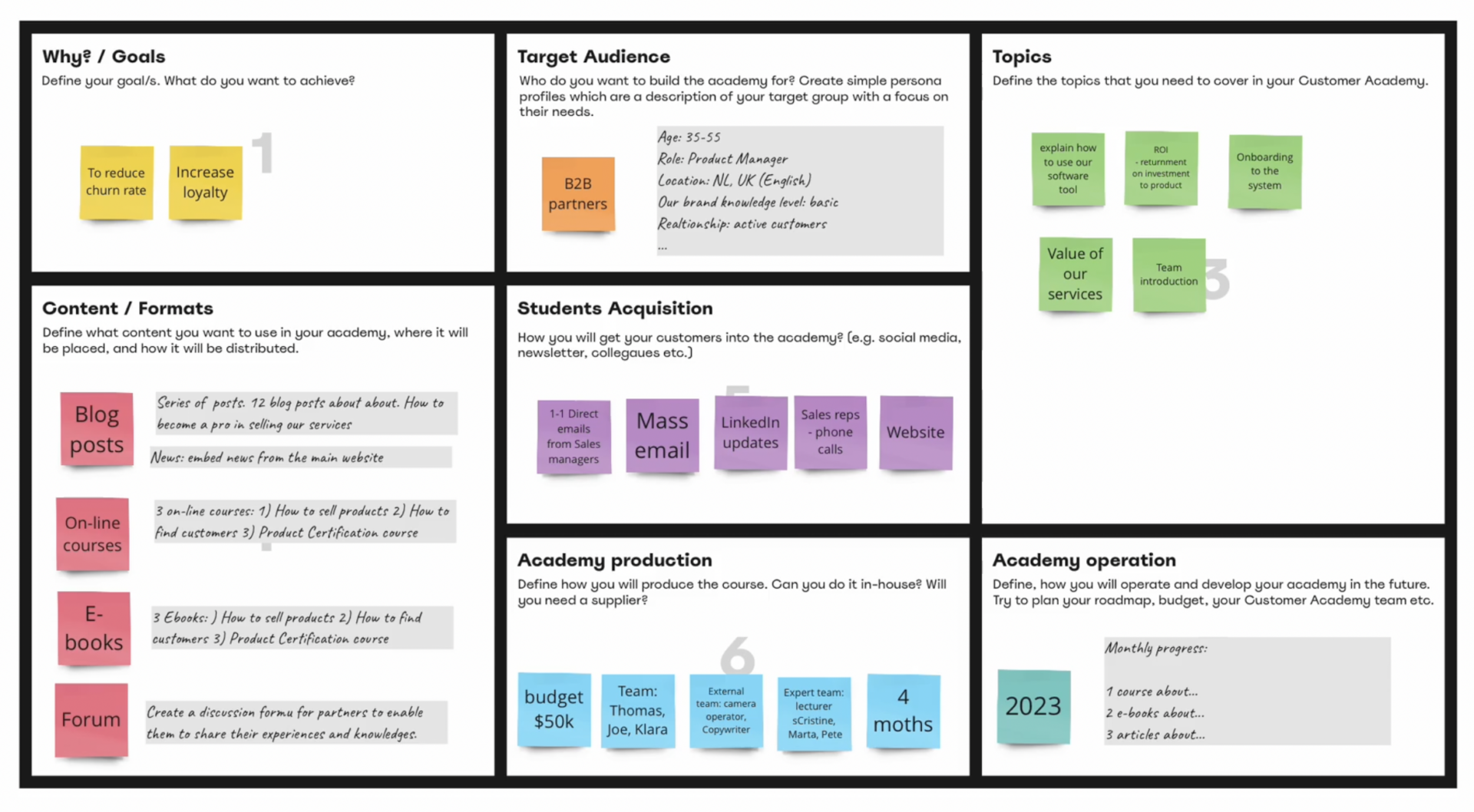 In order to create a high quality customer academy, you first need to have the right strategy in place. Let's keep it simple and most importantly, visual. In this lesson you will find two Customer Academy Strategy Canvas files, that you can download. One canvas is blank and the other is prefilled. In this canvas you will find all of the important steps that need to go into planning your academy. During the course you will learn how to make a strategy and at the end of the course the canvas will not be blank, but it will contain the strategy that you will create.
Let's take a look at what your strategy should contain.
Define your goal
First, it is important to define your goal. You've already done that right? However, I recommend that you think about your goal again because this is something that will define your entire strategy. Once again: your goal might be that you want to reduce your customer churn rate. I understand that you may have multiple goals, and that your goals may pertain to sales, marketing and customer care at the same time. I recommend that you set just one simple goal in this course so that you can fully focus on it when completing the course.
Target Audience
The next box in the canvas is about target audiences. Who do you want to build the academy for? Be very specific. This is an extremely important question. You may have multiple target groups and actually need to create a comprehensive academy that caters to all of them. Again, I recommend that you choose only one target group for the purpose of this course. Create simple persona profiles which are a description of your target group with a focus on their needs. What information are they missing and need? How can you help them? And so on. If you don't have experience creating persona profiles, then refer to the link below this video for inspiration.
Learning Topics
In the next section, define the topics that you need to cover. If you need to explain a product then briefly define what exactly you need to explain to your customers about that product, etc. Again, to simplify your work, I recommend limiting the number of topics to let's say three.
Content and Distribution
Next, define the next section and how you want to educate your customers. At this point, it's definitely useful if you already know what your goal is, who you are creating your academy for, and the topics that you want to cover. Knowing these things will enable you to determine what to use the ebook for, what topic needs to be explained in more detail with a video course (such as this course), what will be appropriate to write regular articles about, what topics to explain with videos, what questions should be included in the FAQ, etc.
Students Acquisition
In the next section, define how you will get your customers into the academy. I mean how will you let them know that the academy exists and entice them to use it. Examples could be newsletters, emails, social media, paid campaigns, etc.
Production
In the next section, try to plan how you will produce the course – can you do it in-house, will you need a supplier? Will you have a sufficient budget? We'll take a closer look at this during the course.
Academy operation 
In the last part, think about how you will develop your academy. I can tell you quite frankly that the work doesn't end with the creation of your academy. Think about how you will add more content e.g. using a roadmap, think about who you will involve e.g. your colleagues, suppliers etc.
Research on your customers
Now you know what steps await you when creating a strategy. One part of it is critically important and that is knowing your customers' needs. After all, the entire academy is meant to help your customers. Perhaps you know your customers perfectly and have accurate information about what they lack. From my own experience, I have to say that there is never enough information about customer needs and we as business leaders always know less than we need to. Therefore if you have the opportunity, do some more research to find out what your customers really need. There are many ways to perform that research. If you work with a small number of customers, you can call or email them and ask them a few questions. If you work with many customers, you can send them questions in a questionnaire and interview some of them. You can also get valuable insights from your sales experts, customer care specialists, etc.
Let's use the example we've already discussed. Do you need to do a survey to find out why customers are leaving you?
In your survey you can focus on customers who left and ask them why they left, what they were not satisfied with and what they did not understand.
At the same time, you can conduct a survey for customers who are, on the contrary, loyal to your organization. And with them, you will try to find the reasons why they are loyal to you and what they appreciate about you. Keep in mind that research and evaluation of data always depends on specific conditions.
Website and LMS 
You will build your customer academy on some web-based application. Let's take a look at what system you will need to use to implement your academy. In general, if you do not need to create online courses, a regular CMS system such as WordPress will suffice. If your academy will contain one or more online courses then you will need to use a so-called learning management system (LMS). Let's look at some of the examples: At Playou, we have a lot of experience, e.g. with a system like Thinkific, Eduflow or LearnDash. The Thinkific system offers both a website and a learning management system in one tool, which is why it is very popular with users from around the world. Thinkific also allows users to sell their course on their platform. The Eduflow system has very sophisticated features for collaboration and feedback from instructors. LearnDash is a plugin for websites that are hosted on WordPress and other systems . It has very robust editing options and a wide range of functionalities. At Playou, we use all of the aforementioned options and we select one based on how comprehensive an academy is and what our customers' requirements are. The advantages of using Thinkific or Eduflow are their usability and robust security features. The advantage of using LearnDash is its many customization features. There are hundreds of LMS systems on the market. I recommend you to try out these different LMS's and figure out which one you like best before beginning to create your course.
Prototype a validation
Academy Structure
Okay, we've already done some work on the strategy. Now is the time to work on prototypes of your academy and verify with customers that its content is valuable to them and they will learn something. Let's go! We'll start by creating the structure of your course. My team at Playou has found that the best procedure is to look at things from above before we get caught up in individual details and lose perspective. Here is a sample wireframe of one of our academies. This academy is very extensive, it includes 400 videos, a discussion forum, dozens of online courses, dozens of e-books, dozens of articles, FAQs, etc. No, that's not the structure of the academy that you'll be creating in this course! Let's do something small and simple so that you can do it. For example like this: (this je odkaz na obrázek ve videu) this academy includes 5 videos on one topic, a couple of blog articles, a couple of FAQ e-books and an option to contact you. The specific plan is of course up to you and based on what you need. The structure of the academy will help you plan better and at the same time give you a clear framework of what awaits you. I recommend the same procedure when creating content. For example, if you are going to create a course or an e-book, first plan what parts it will have, and then work on the details.
Content sources and inspiration
So we have the structure of the academy ready! Now it's time to get down to the content itself. Let's go! In practice, we encounter three possibilities: a) content for the academy is created from scratch b) content for the academy already exists c) some content already exists, but new content needs to be created. We typically work with variant C. If you already have some blog articles, e-books, online courses, videos, etc., ready, you have an excellent starting position. Where should you look for further inspiration, and how do you simplify the creation of additional content? In one of our previous lessons, we talked about research and how it can certainly be a good source of inspiration and information. You will also find a lot of valuable information from your colleagues. For example, your customer centre can tell you which FAQs you should include in your academy. An information system, CRM, your sales and marketing materials, consultations with salespeople and customer centre staff can all be good sources of insight. Of course, suppose you have trainers and coaches who are already educating customers through personal training, seminars or online consultations. In that case, you should involve these colleagues in your customer education project!
Academy content concept design – internal feedback
Let's get creative! You are going to create a prototype, so you mainly need to work quickly and not be afraid of making mistakes. Feedback from colleagues and users will help you improve.
I recommend creating prototypes in some tool in which you will be able to create and change them simply and quickly.
You can start very simply e.g. in Google Docs in the form of a text document. You can use the structure that you created and insert the text for the web part of your academy, the text of your video scripts, the text of your ebooks, the text of your online courses, etc. Then ask your colleagues to review your content and evaluate whether the individual parts make sense to them. That's the best and fastest way to get at least the first feedback and certainly a lot of interesting suggestions for improvement.
If you want the texts to be better placed in context, you can use, for example, a visualization tool such as Miro. Thanks to this, your colleagues can better understand the content and give you better feedback.
Academy prototype user testing & optimisation
Now, you will also want to get feedback from actual customers as well. They will appreciate it if you create a prototype that is more similar to the resulting academy. You can achieve this by embedding content concepts into your chosen web system or Learning management system.
Let's take a look at an example. This is the concept of the academy. You see that the structure looks like the final product, but you can also see that the design is not finished, the videos are filmed on a mobile phone, graphics are missing, or you only see sketches instead of pictures. How can you test such a prototype with users when it does not look like the final product? Ask users to focus only on the content and not on the design. You need to know if your courses, your texts, your ebooks, and your entire academy make sense to your customers. And an important part of such a prototype is getting feedback.

How to get customer feedback? Each of you works with a different amount of customers, so I can't recommend a simple one-size-fits-all option. A simple way to get feedback is to give your customers access to your academy's prototype and send a questionnaire to them simultaneously. I also recommend a focus group. For example, five customers with whom you will conduct a one-on-one interview after filling out the questionnaire. Thanks to this, you will receive more reliable feedback and important suggestions for improvement.
Once you get feedback, you evaluate it and refine your prototype. Then, you are satisfied with the result, or you repeat the whole process if the feedback on the first prototype was not good, and you want to be sure that you are now going in the right direction.
Customer Academy Production
Production plan
And now it's finally time to craft your academy! How did you plan the production? Can you handle it internally or will you outsource it to an external company? Whether you choose one option or another, you need a production plan. At this moment, you already have one huge advantage because you have a finished prototype, so explaining to others what the final product should look like will be a piece of cake for you.
Plan who will create which content and ensure that your plan corresponds with your financial and time possibilities. Be sure to set a strict deadline. Divide your production into smaller units; for example, plan the creation of texts for the website, then the creation of one ebook, etc. The Roadmap, which is the plan for producing and publishing content, will also help you. Start with the smallest product that you will be able to publish
Production execution
Let's get to work. If you outsource the production of your academy to an external company, you will primarily be responsible for project and creative management.
If you will handle the production of the final product yourself, I recommend getting partners and creating the content in cooperation with at least one, ideally more colleagues. Creating an academy is often a robust project that is too demanding for one person. Let's look at examples of content that you can handle yourself and at those where you will need help of a professional like copywriting, graphics, video production, animation, etc.
The key activity is writing. If you don't feel strong in writing, you should ask your colleague or an external professional to help you with it.
Another important part of online education are videos. Videos that simply consist of a speaker giving a lesson can be handled internally. However keep in mind that for good results you should use a good quality camera. You can buy it for around $2000-3000 or just rent it for a few days if you don't want to invest that much. If you are planning to shoot a large amount of videos, I recommend getting your own equipment, that will give you a lot of flexibility and save costs in the long run. You will also need lights and video editing software. You might be able to find a skilled colleague in your team who already has experience with filming, or you can hire an external professional. In that case you don't have to worry about equipment. It depends on your budget options. Another important part of video making is post-production. The right video cut will keep your audience awake. Animations will help you explain complex topics in a way that is fun and easy to understand. That's something you probably won't be able to do on your own.
Another type of content are e-books. That's something you can easily handle in-house. There are also many stock illustrations that you can use for your e-books. Canva, for example, is a handy creative tool.
Consider what internal possibilities and what budget you have for the production of your academy.
User testing & Final revision
 academy is complete! It's certainly a good reason to celebrate! But before you do and before you release it, take one more step and share your final product with colleagues and customers once again to get more feedback. You will get more tips and ideas for the very final adjustments. Testing and collecting feedback is recommended even during the sharp launch of the academy. You are doing it for your customers and you want the best for them.
Academy activation
Students acquisition
How do you plan to get your customers enrolled? Let's get one thing straight: my experience is that most people are not super excited about self-education. You don't have to worry about students waiting in lines for your courses. It will be a task to explain what value your academy has and to convince them to enroll. It is exactly the same as selling any other service or product. Regardless of whether your education is free or paid. If you have set the right goals and the content meets the real needs of your customers, the chances of your academy's success are high.
Reach out to your customers in a way they're used to. If you have salespeople or a customer center, introduce your staff to your new academy and let them offer it to your customers. If you have a website, add a link to the academy, etc.
Don't forget that you need to talk about your academy long-term and repeatedly so that customers and your customer-facing colleagues get used to it.
Students Onboarding & ongoing support
Are you successful in enrolling new students to your academy? Congratulations! Let's think about how to make your customers happy. Your academy will probably include a section that can only be accessed by registered users, like an online course. Think about it carefully. You also might want to monetize robust and expensive courses. Another thing is that a public course is not the best environment to monitor user behavior. You are able to collect way more information from registered users who are logged in when using your academy. To get feedback and user data I also recommend using a chat feature in your academy or an optional feedback feature etc. In the case of registered users, of course, you have their e-mail address at your disposal, you can communicate with them and ask about their opinion.
Another important thing is to reward your customers for example with a certificate after completing the course. You can also enliven your academy with discussion forums, which are a good source of feedback, on the other hand, they can be demanding to maintain .
Academy Roadmap
Your academy is complete, but your work is not. You want to keep working on new content. Plan an Editorial or a content road map, secure a budget, time and staff for further development and maintenance of your academy. At the beginning of this course, we talked about an academy that contains more than 400 videos and dozens of ebooks and articles and several discussion forums. Until today we have made dozens of online courses for it and we keep going. That academy was not made overnight, but it is a result of many years of hard work. If you continuously conduct research among customers and constantly keep looking for topics to educate your customers on, your content will be endless and your customers will appreciate it. Follow your roadmap, it will help you.
Create your Customer Academy Strategy
Now it's time for one more task. Complete the Customer Academy Strategy Canvas that you downloaded at the beginning of the course. If you haven't downloaded it yet, you can download it now. If you need help with filling it in, go back to previous lessons to where we discussed this topic. If you've been working on the canvas continuously throughout the course, you're probably already done!
Thank you for taking our course on how to build a customer academy. I hope you learned what you needed, and that it will help you build your own customer academy. Just one more thing please – Leave me feedback so that I know what I can improve and what I did well. Thank you!