Marketing
1. Videos and series for PR
If you need to convey a complex topic to the public, animated explainer videos can be a super-effective tool. In addition, if the described matter is complicated, you can educate people through the whole video series. To further support your thoughts, create a landing page or a simple website, embed a video series, and add additional content.
2. Conversion of freemium users to paying clients
If you run, for example, a web service or a fin-tech project, and you have already gained a lot of users in your free version of the system, explainer videos can help you greatly. Just explain to your users the benefits of the paid version, and show them how to use your app. For example, our client, Paysend.com has gained several million clients with explainer videos.
3. Explainer Videos on websites and landing pages
People love videos and prefer to watch short videos instead of reading the text. The video tells people what you do, who you are, or why they should buy your product. Explainer videos on the web increase the chance of conversion, which means that the visitor is more likely to buy your product or contact you. They also spend more time on your website and better remember your brand.
Learn how to create an effective marketing video in our course here>>

4. Brand awareness advertising on social networks
You need to be visible. You need people to remember your brand and connect it to a particular topic, need, or product. You want people to remember that your brand is associated with your values. Is it quality? Is it a price? Remember, an explainer video can be the flagship of your brand. Your story combined with beautiful images and animations, breathtaking music, and the voice of a professional speaker will leave a mark on the hearts of your potential clients and prepare them for future cooperation.
5. Videos for events
Your conference or meeting will be much more interesting if you show a beautiful video. The video will do the work on your behalf—it says the essentials while you enjoy your coffee. We have proven that explainer video works great as an ice-breaker if the video is positive and stimulates some emotions. Furthermore, the video will underline your professionalism and help you shine.
Sales videos
6. Videos for cold calling
There is nothing more complicated than explaining something to someone over the phone or making a video call if your prospect is not ready for it. Instead of a lengthy explanation, send an explainer video to your potential clients, and only then start convincing them of its benefits in person – they will be ready to discuss more details!
7. Presentation of products to existing clients
You can send an explainer video to existing clients before the meeting or play it directly during a meeting or video call. If you send the video to the clients in advance, you can count on receiving their feedback at the meeting, and maybe you will close the deal!
8. Videos for the presentation of the offer in tenders
Sales proposals or tender proposals are usually complex, and there is a lot of information that may be important to your client. Attach the product video to the proposal. Your customer will better understand your offer and appreciate your efforts. Are you bidding for a big tender? Then it is definitely worth making a custom video. In addition to extensive documentation, attach a video to help the customer better understand your added value. At the same time, you will impress them.
9. Sales pitch for investors
Are you looking for an investor? The investor needs to understand why they should entrust their funds to you. Explain the product, service, team, statistics, and your plans for the future. Don't have a finished product? Animated videos can often demonstrate a product very effectively. The investor is like a customer.
10. Personalized videos
If you want to impress your clients, you can use some generation tools for personalizing videos. We will create the main story for you and adapt the project for distribution to thousands of contacts so that each receives a video with, for example, the client's name.
Education
11. Educational videos
Explainer videos = educational videos. Explainer videos educate and can explain even very complex and comprehensive topics in a simple way. Furthermore, you can use explainer videos to train employees. For example, how to behave within technical safety or how to communicate appropriately with clients. The options for how to use video explainers in education is endless.
12. Educational series
Do you want to teach or inspire? If you want your staff or students to really take home knowledge and deepen it properly, you will need an entire explainer video series. Plus, animated explainer videos are fun 🙂
13. Powerful explainer videos for E-learning
You can offer training courses to clients or employees. We at Playou create such courses. The courses include filmed and animated explainer videos, discussions, quizzes, assignments, and many other tools that allow students to learn complex skills in just a few weeks.
14. Interactive animated videos
Interactive videos are clickable videos that function as applications and may contain additional content. For example, you can teach customers how to work with your software.
15. Onboarding videos and series
Do you want your clients to know how to use your service? Make them happy from the beginning of your cooperation. Explainer videos or onboarding series will help them find their way around your services, products, or rules. Save thousands of hours of explanation. Explainer videos don't get tired! 🙂
Did you find what you were looking for?
Visit our academy or contact us straight away to request a video marketing consultation.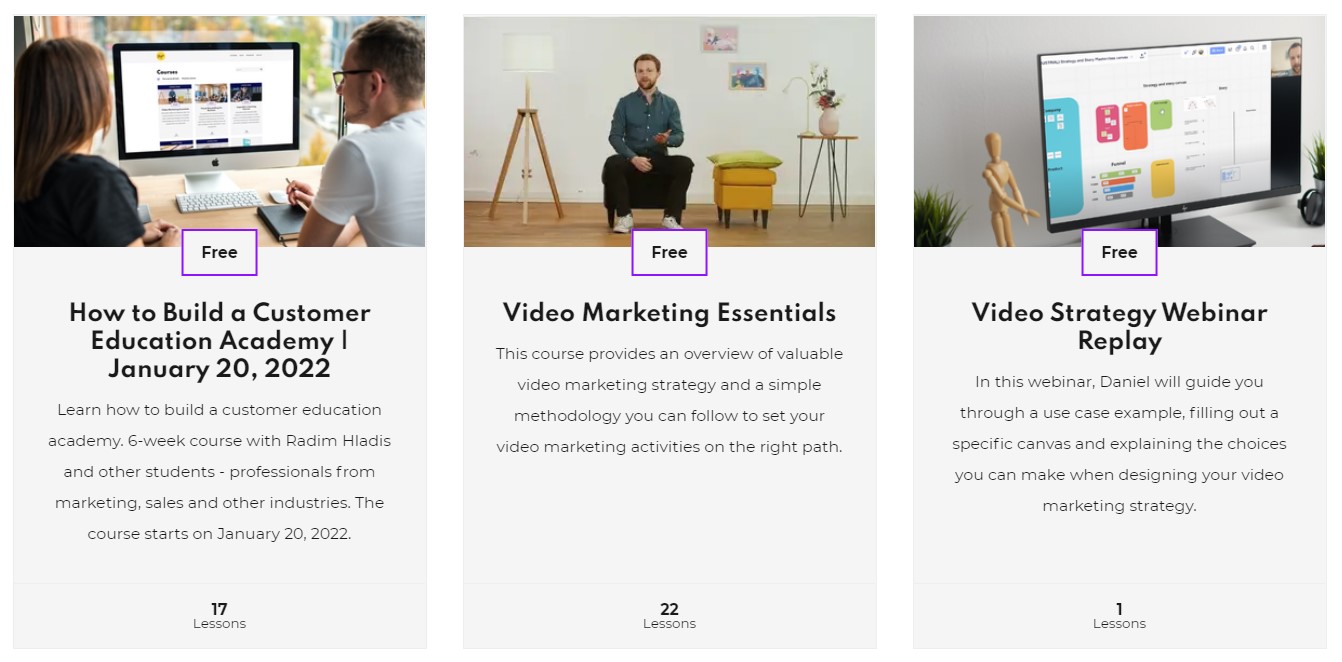 Visit our explainer video production site.